Madrid was chosen as Spain's capital in 1961 because of its influence on the rest of the country, its central location, and the warm weather its citizens enjoy all year. Today, Madrid remains one of Europe's most popular cities, reflecting Spain's diverse culture in its food, music, and architecture.
As summer trips to Madrid increase, we've compiled a list of places we recommend visiting in the city – all close to a Roomspace serviced apartment, so you can explore Madrid even if you're only here for the weekend!
1. Puerta del Sol – Tour Guide and Kilometre 0 plaque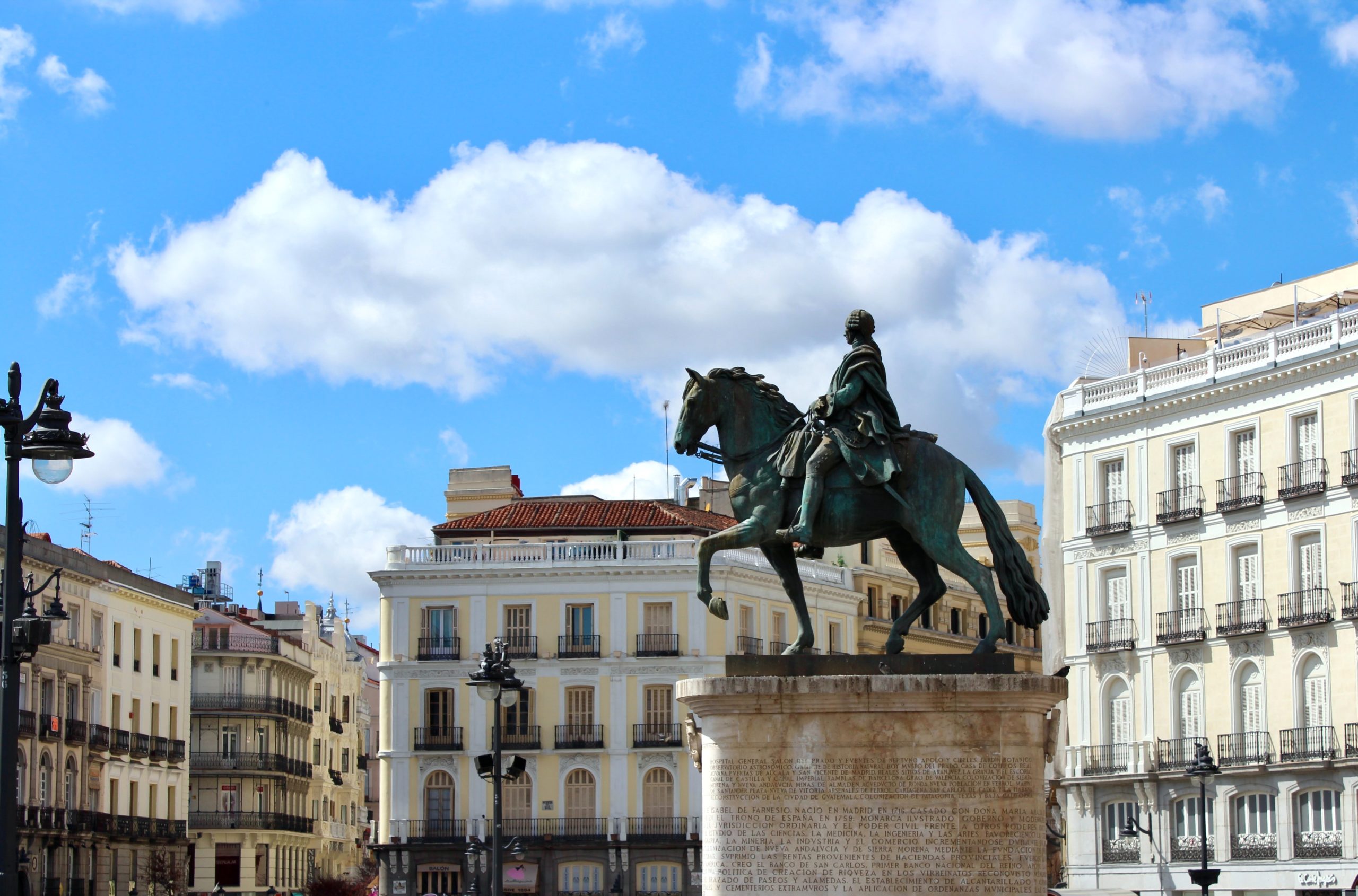 Cr: Tomas Evaristo (@tomasevaristo) | Unsplash
Due to its historical and geographical influence on the rest of Madrid, Puerta del Sol is one of the most popular tourist sites in the city.
The stone plaque known as Kilometre 0 at Puerta del Sol marks Spain's geographical centre and the starting point for all six major radial roads, from which distance is measured throughout the country. On New Year's Eve, Madrid's citizens gather here to participate in the countdown to the New Year, serving as a symbol of unity and progress.
If you want to learn more about the city's history, architecture, and cuisine in a couple of hours, the Civitatis team offers FREE guided tours with volunteer locals. Every day, these knowledgeable guides gather at Puerta del Sol, in front of the Carlos III statue – look for the red umbrella. These tours, which can last up to two hours, will show you the best things to do in Madrid if you only have a few hours to spend there.
2. Plaza de Colón – Centro Cultural de la Villa
Plaza de Colón, surrounded by the Serrano, Goya, and San Juan streets, has played an important role in Madrid's history for centuries. Although it was originally known as Plaza de Santiago (St James' Square), it was renamed Plaza de Colón in 1893 after Christopher Columbus (Cristóbal Colón).
The Plaza houses the Teatro Fernán Gómez, Madrid's cultural and art centre. Everything from the Museo de Cera (wax museum) to regular Spanish drama, opera, and dance performances can be found here.
Along with the cultural and art centre, there are the Torres de Colón (iconic twin towers designed by architect Antonio Lamela in 1968), Platea (the city's gastronomic hub, complemented by theatre performances), the Biblioteca Nacional and the Jardines de Descubrimiento, among other landmarks.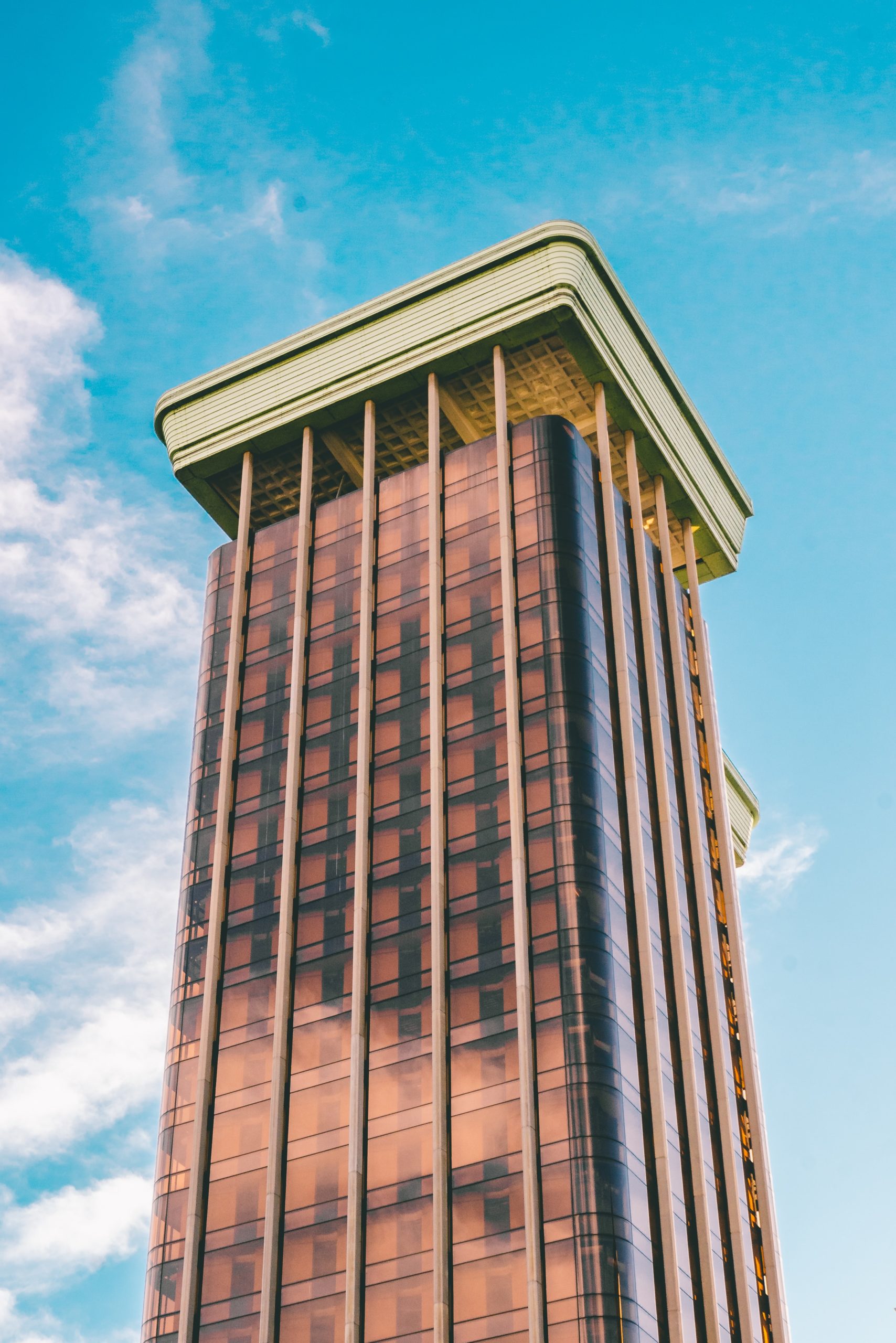 Cr: Moiz K Malik (@moizk) | Unsplash
The Plaza de Colón is close to Roomspace's Sandoval (10 minutes by bus), Castellana (11 minutes by bus) and Calle Goya (16 minutes by bus) serviced apartments.
3. Puerta de Alcalá – Plaza de la Independencia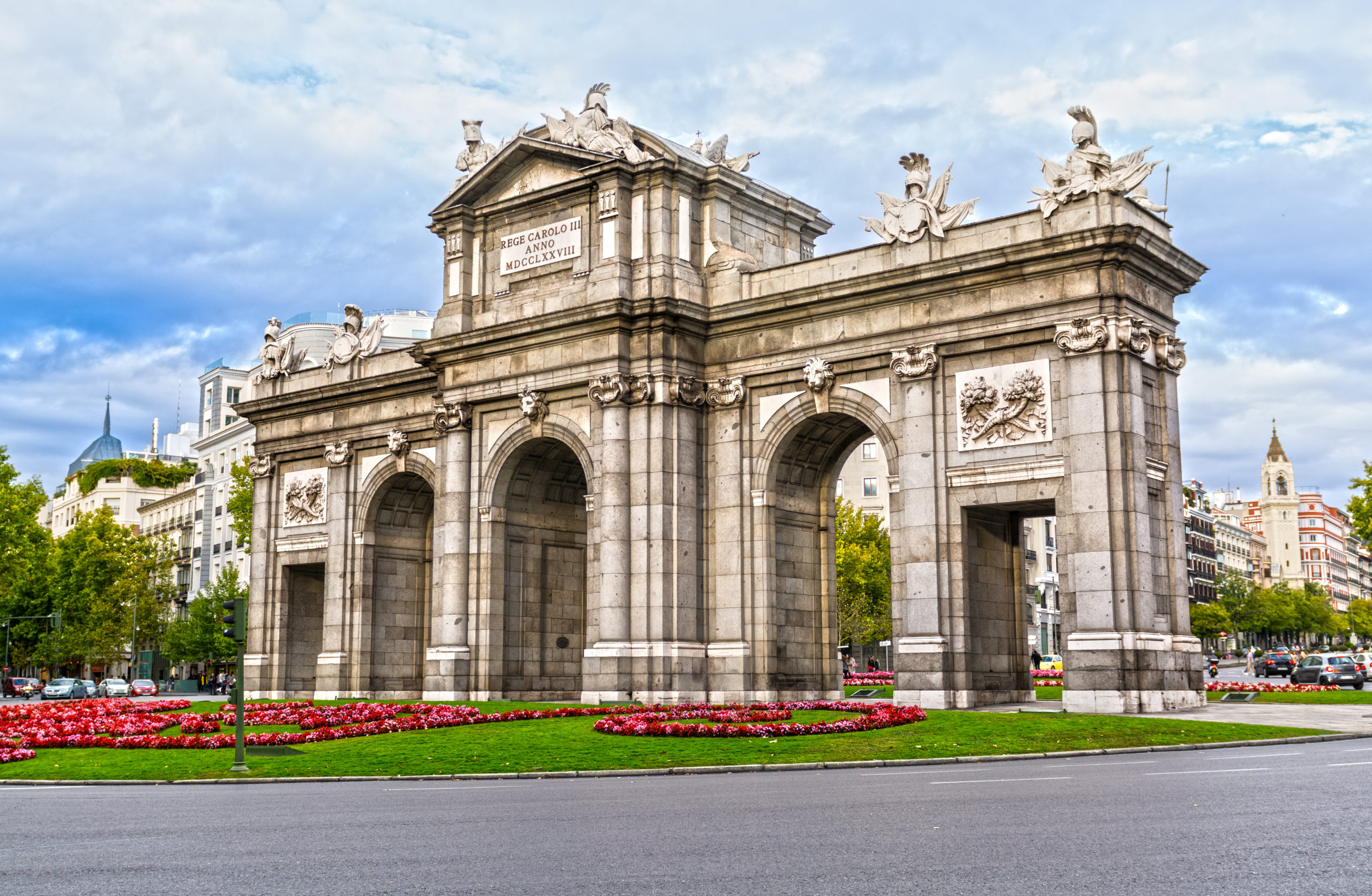 Cr: Sergio Martinez | Adobe Stock
The Plaza de la Independencia is home to the Puerta de Alcalá, which was built in 1868 by King Charles III following the demolition of the Wall of Phillip IV, one of five walls that had surrounded the city centre since 1614.
The Puerta de Alcalá was built to replace the original, weakened wall. A new proposal was made in 1968 to build a square around the gate, which was officially inaugurated ten years later, in 1778. The Puerta de Alcalá was the first triumphal arch built after the Roman Empire fell, and each side of the gate is unique. There are statues of four children along the top, each holding an object representing one of the four cardinal virtues: prudence (mirror), justice (scales), strength (spear and shield), and temperance (stirrup).
The gate has played an important role in Madrid's history. From the shrapnel that hit it during the 1930s Spanish Civil War (remains of which can still be seen today) to the multicoloured lights that have reflected against it annually since the 1977 Madrid LGBTQ+ Pride Parade. The site is a symbol of Madrid's resilience, serving as a place where the past and present coexist.
The Plaza de Alcalá is close to Roomspace's Fernán González (12 minutes by bus), Calle Goya (13 minutes' walk), Calle Ibiza (13 minutes by bus), Castellana (15 minutes by bus) and Sandoval (20 minutes by bus) serviced apartments.
Parque El Retiro, one of Madrid's largest and most popular parks, was designated as a UNESCO World Heritage Site in 2021. From monuments to key figures in Spanish history (such as explorer Christopher Columbus, King Alfonso XII, and painter Diego Velázquez) to the Palacio de Cristal, the park has it all. This Palace was formerly a conservatory and is now frequently used for art exhibitions by the Reina Sofia Museum, which is located right next door.
El Retiro is ideal for both children and adults, with historical landmarks, fitness classes, book fairs, and art performances from all fields frequently visible throughout the park. Families can also rent bikes to ride around the park or row boats on the lake. This park is the perfect place to explore Madrid and learn about everyday life in the city. On weekends, El Retiro hosts puppet shows from the Teatro de Titeres team, which are aimed at children, families, and everyone in between!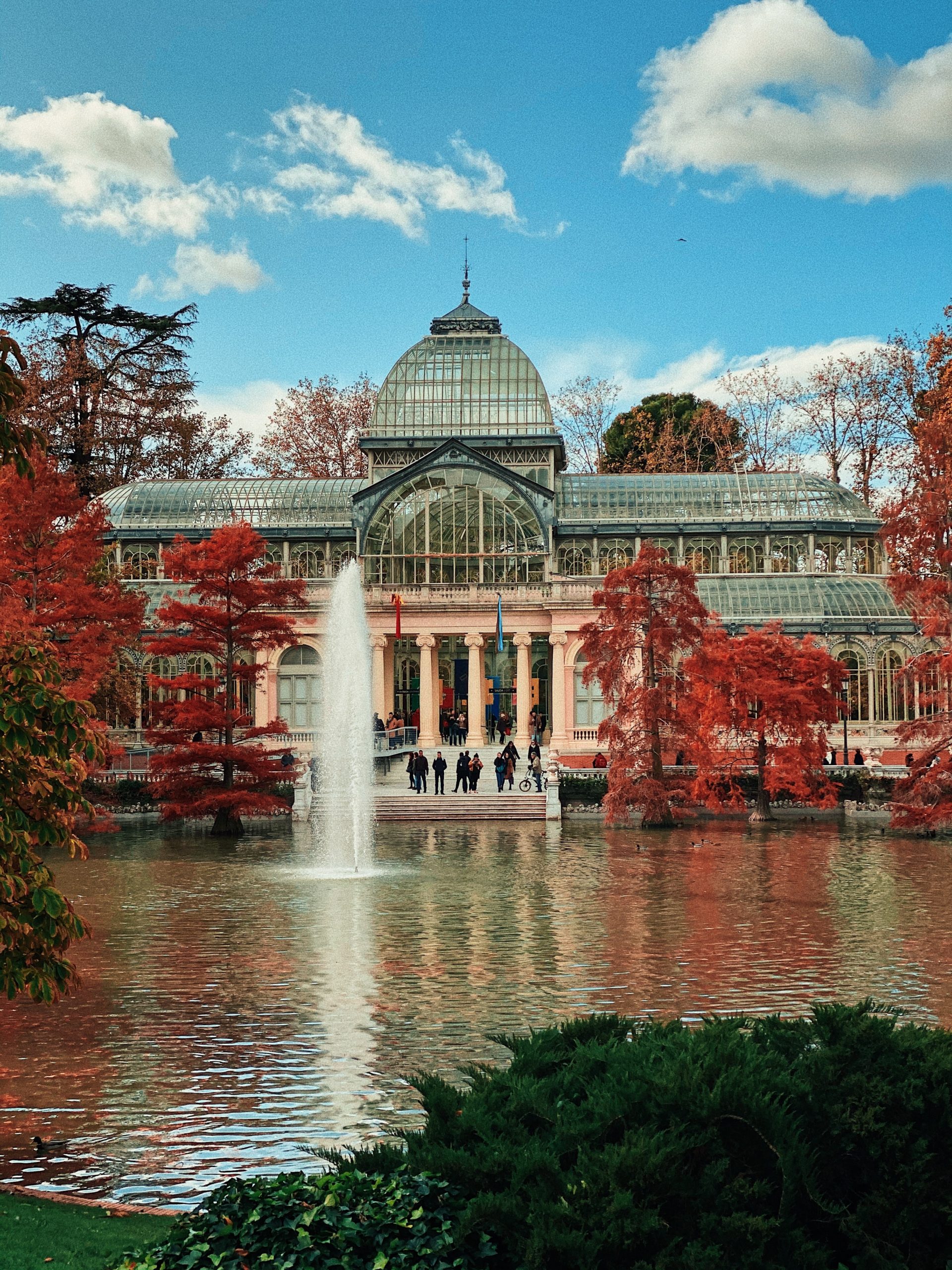 Cr: Alvaro Bernal (abn) | Unsplash
The Parque El Retiro is close to Roomspace's Fernán González, Calle Ibiza and Calle Goya (all within a 6 -minute walk), as well as Castellana (15 minutes by bus) and Sandoval (19 minutes by bus) serviced apartments.
5. Palacio Real – the Largest Royal Palace in Western Europe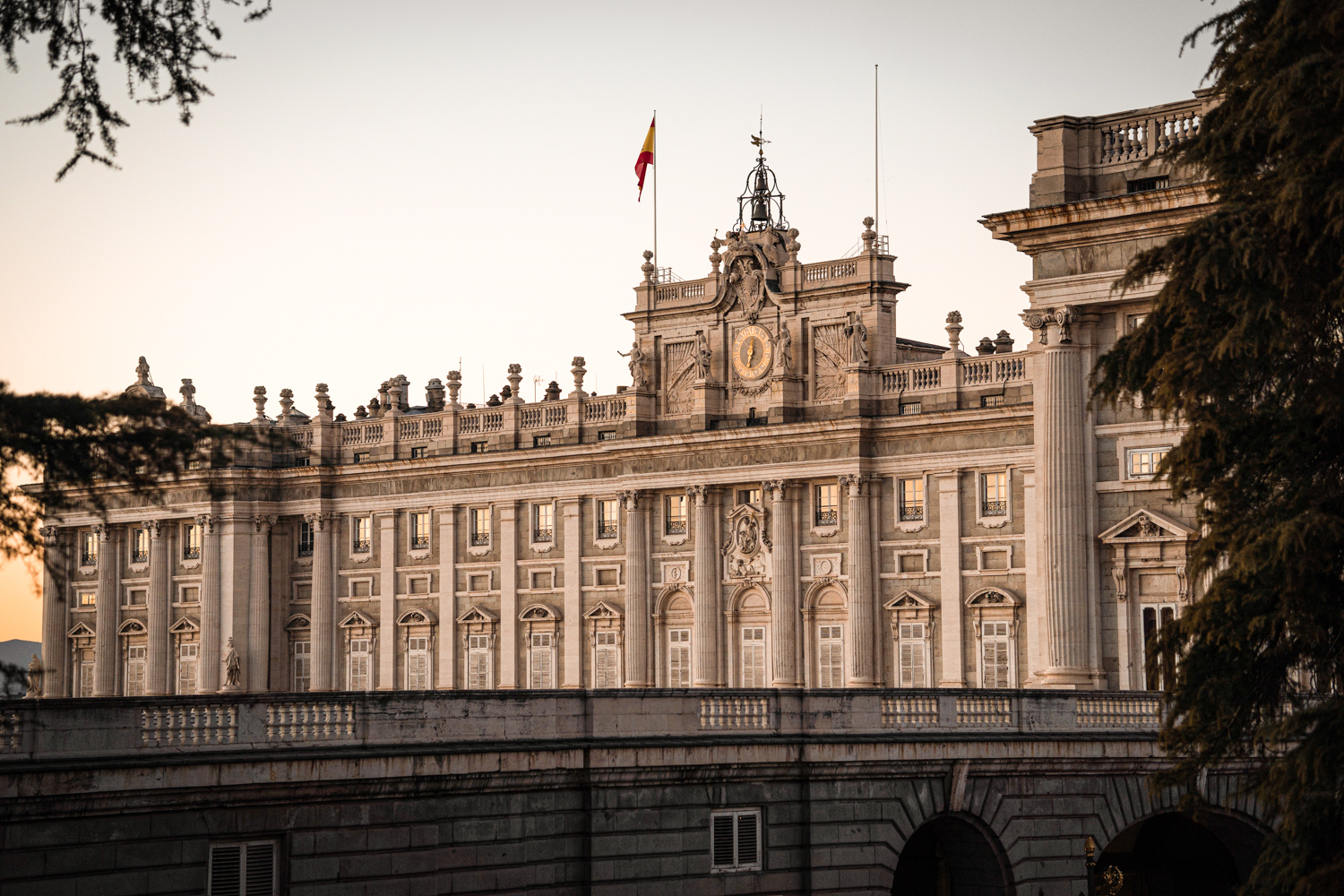 Cr: Hernan Gonzalez (hernan_agf) | Unsplash
The Palacio Real de Madrid is the sixth largest palace in Western Europe, the largest European palace by floor area, and the ninth largest in the world.
The Palace was constructed in 1734 on the site of a 9th century Moorish fortress. During the Middle Ages, the Moors were Arabian occupants of Madrid and other parts of Spain. As a result, its location became synonymous with Spain's national identity and dominance over its conquerors.
The royal family used the palace until 1931, following King Alfonso XIII's exile. The Spanish royal family now lives in the Palace of Zarzuela, despite the fact that it is still recognised as their official residence. Fifty of the rooms in the Palacio Real are open to the public and used for state functions.
The Palacio Real is close to Roomspace's Sandoval (17 minutes by metro) and Calle Goya (20 minutes by metro) serviced apartments.
Sign up to receive email updates on new blog posts, special offers and the best possible rates when booking with Roomspace!