On 18th May 1977, the International Council of Museums organised the first "International Museum Day", which has now been celebrated for 45 years.
In honour of International Museum Day, today's Roomspace blog post is a guide to our Top 5 Museum recommendations in London. From classic museums where you can find out more about world history to modern venues where you can explore contemporary art, we discuss the city's most popular museums, so that you can check out the best of London's culture.
All of these museums allow free entry. However, paid tickets are essential to attend private exhibitions, so make sure you book ahead!
The British Museum is "the world's oldest national public museum" – even older than the United States – having been opened in 1759, 17 years before the Declaration of Independence. The museum is free to all, though it encourages donations from its visitors.
Despite its name, the museum hosts art pieces and antiques from a variety of cultures around the world, with each floor being dedicated to a single continent – these are further divided into countries and time periods.
The Japanese exhibition in the Asia section has a replica of the wooden Japanese tea houses from the Showa Era (1926 – 1989), where the Urasenke UK Foundation hosts a free matcha tea ceremony twice a month, with a brief explanation of the process.
Similarly, the Korean exhibition hosts a replica of a "sarangbang", or traditional scholar study, from the Joseon Dynasty (1392 – 1897). Sarangbangs were private rooms in the house reserved for male scholars to carry out their studies, practice art, write poetry and pursue other academic or artistic activities.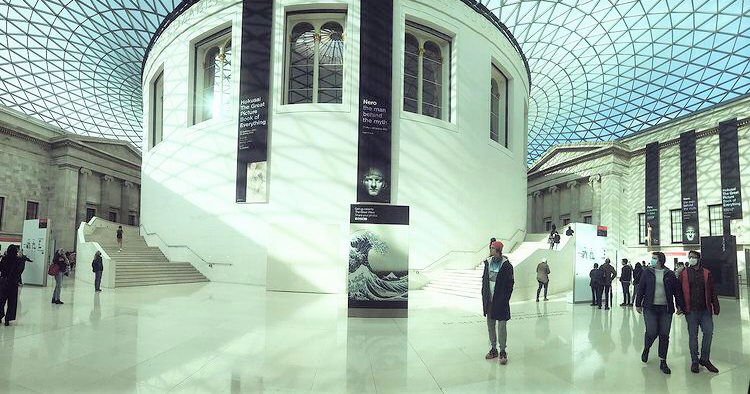 Lastly, the Egyptian exhibition hosts a wide range of treasures from the country, through various time periods. The area offers ancient Egyptian fashion, religious and royal artefacts – including royal amulets, ancient scrolls and mummified cats – and, of course, the Rosetta Stone!
The Museum uses state-of-the-art technology to offer audio-visual aid to its visitors, through recordings in each section, interactive video and translation to various languages, making their content accessible to all.
2. Victoria & Albert Museum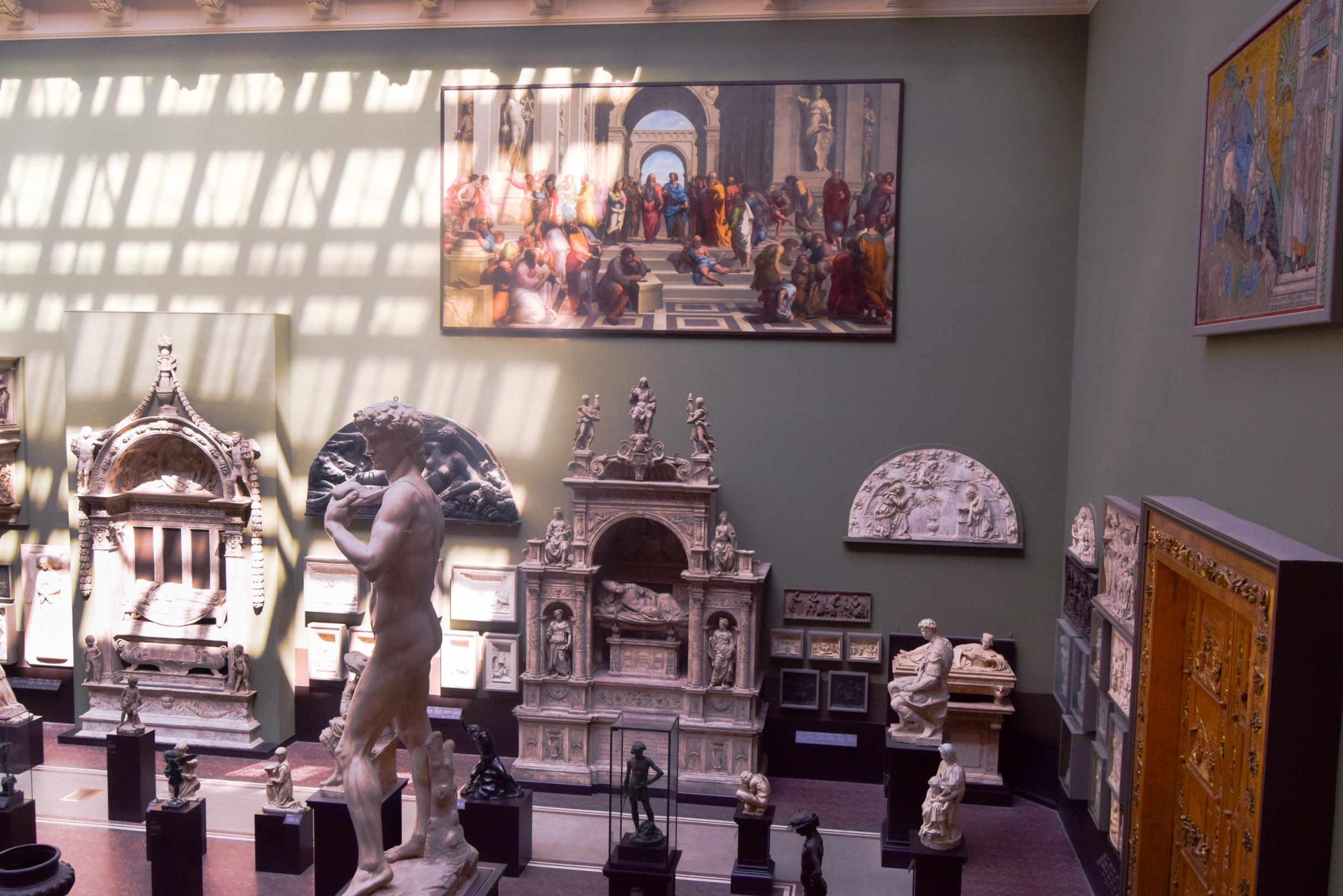 The V&A Museum is "the world's leading museum of art, design and performance", where you can find religious and political collections on display at all times, as well as exhibitions discussing gender and sexuality (Fashioning Masculinities: The Art of Menswear) and race and culture (Africa Fashion). The museum also offers workshops for school groups and young adults, performing arts tours and courses in art techniques and museum curation.
The museum purposefully curates artwork which uses various media, to engage their visitors with each of the pieces on display. Through each section, you'll find a combination of photography, theatre, architecture, music, fashion and fine arts, allowing you to better understand the period they represent through a deep immersion into the space you occupy within the art.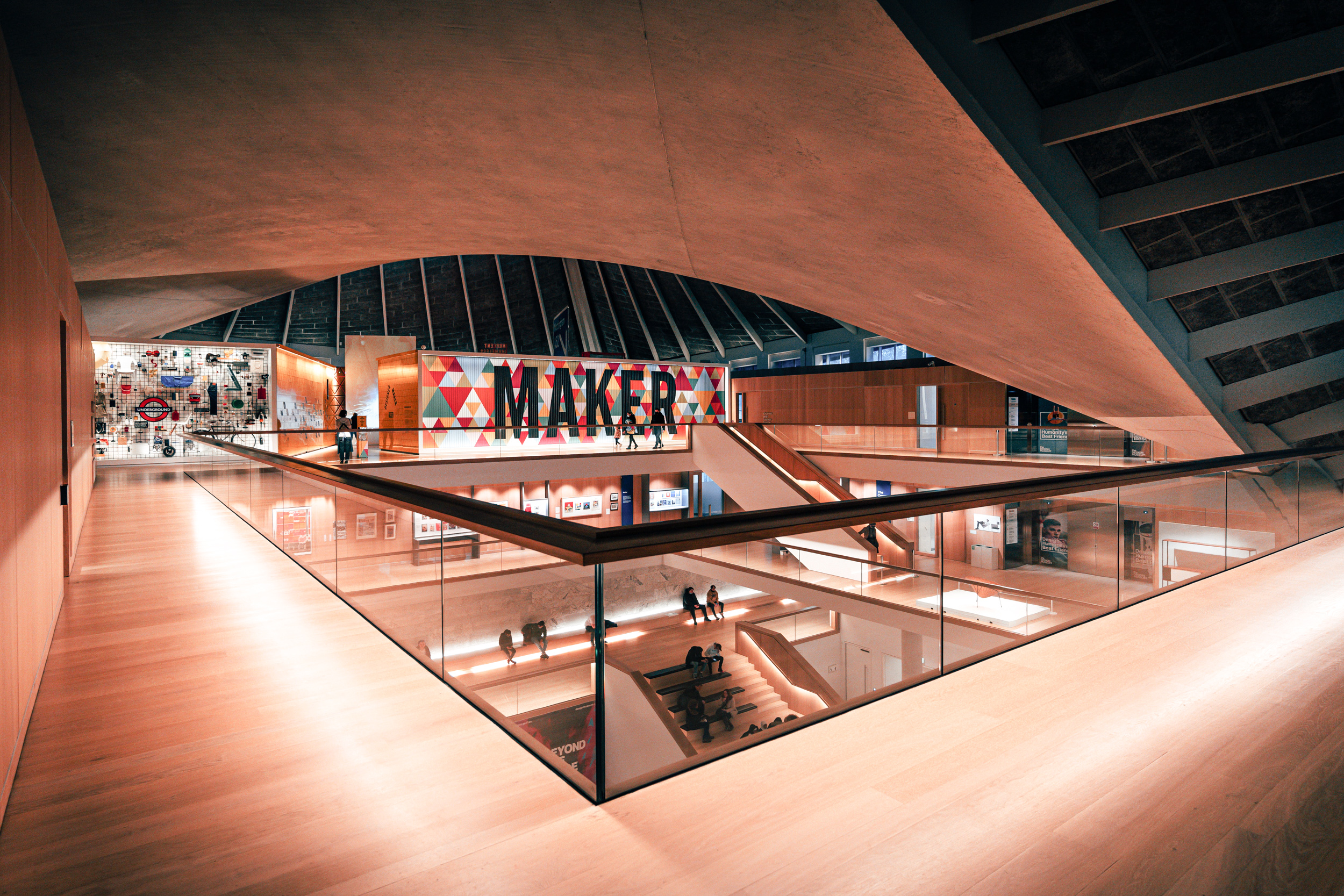 Cr: Andrea de Santis (@santesson89) | Unsplash
The Design Museum is "devoted to contemporary design in every form, from architecture and fashion to graphics, product and industrial design", with exhibitions, talks and courses for children, young adults and school groups.
This museum is also well known for working with schools and colleges around the country, where students can create their own themed pieces to be put on display at one of the many pop-up events inside the museum. The "Design Ventura 2021-2022" programme has seen more than 20,100 pupils from 367 schools taking part, and the winning team will work together with a professional team of designers to bring their product to life to be sold in the Design Museum Shop from Autumn 2022.
The Design Museum is also home to a variety of pop-up and temporary exhibitions, ranging from Weird Sensation Feels Good: The World of ASMR, to Bethany Williams: Alternative Systems, which discusses the environmental impact of fashion from a socio-cultural perspective.
4. Natural History Museum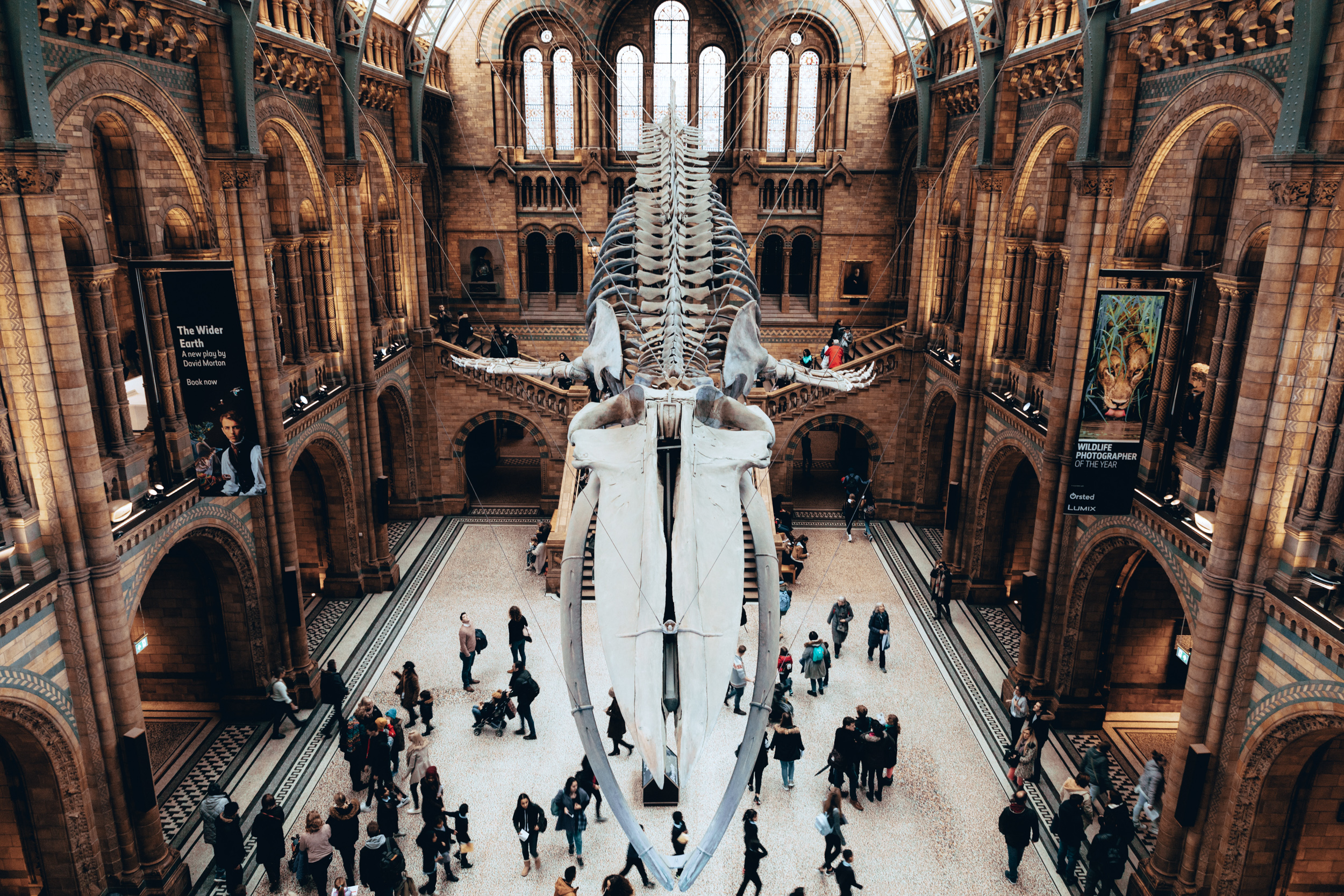 Cr: Sheng L (@parachutel) | Unsplash
If what you're looking for is research on natural life and the evolution of planet Earth, then the Natural History Museum is for you.
The museum allows you to "uncover the history of life on Earth, from the smallest insects to the largest mammals", with exhibitions that display a wide range of mammal, reptile and amphibious species from around the world. Here, you can also find strange creatures and specimens, including an exhibition on scientific research dedicated to narwhals (the "unicorns of the sea"), dinosaur fossils from prehistoric times and an adult-sized model of a human foetus.
Some of the most popular collections in the Natural History Museum include space research, where visitors can see fallen meteorites, plants grown in lunar soil, rocks from ancient Martian lakes and asteroid samples. The museum features interactive maps and videos, which explore the ways in which space research could answer questions about the evolution and protection of our planet as well as the possibility of space travel and extra-terrestrial life.
5. National Maritime Museum (Free timed tickets – paid exhibitions not included)
The National Maritime Museum has a collection of over 2.5 million artefacts, including "astronomical and navigational instruments, ship models and plans, […] historical art, film and photography", allowing you to explore all there is to know about life at sea.
This museum hosts a series of private exhibitions related to nautical history and the influence of ships in world history. These include the Pacific Encounters Gallery, which features an authentic Fijian canoe ("drua"), JMW Turner's The Battle of Trafalgar and Canaletto's Venice Revisited, with paintings of Venice's waterways.
The National Maritime Museum also has over 230 wooden figureheads on display, traditionally placed on the prows of ships to protect the crew from tempests and bring wealth. There are hundreds of sculptures, models and authentic objects on display, enabling visitors to find out more about the beauty and the dangers of the sea.