Until recently, our work environment involved a 9-5 schedule, commuting to the office in the early hours of the morning and getting home after sunset. Working to alternative schedules was reserved for freelancers and employees whose role was flexible enough that they didn't need to follow a regular pattern.
However, as the COVID-19 pandemic resulted in most of the world's population having to work from their own homes, an increasing number of people became more comfortable with the work-life balance that this can bring. And, as people continued to prove that we can still get work done whilst wearing PJs in bed, companies had to reconsider the working environment they provide for their employees on a regular basis.
Serviced apartments offer a different way of interacting with your workspace during a business trip. Whether you're working from home, commuting to the office or following a hybrid pattern, serviced apartments provide the space and privacy you need – so you can hit your deadlines, even from the comfort of your own couch.
While corporate travel has picked up considerably since the beginning of 2022, many companies still offer work from home and hybrid options. Most serviced apartments offer self-check-in, giving peace of mind to guests concerned about the health risks associated with face-to-face interactions. This makes them an ideal option for guests, as they're afforded the privacy of their own apartment with extra health and hygiene measures that may not be available in the office.
Serviced apartments are a great alternative to the pressures of office life – you no longer have to deal with 5am alarms, or expensive train tickets and crowded train carriages on the way home. Instead, you can work from a modern and spacious apartment – whether you want to have a quick nap between calls or take advantage of the fully-equipped kitchen during your lunch hour. Serviced apartments often feature desk working spaces as well, ensuring a great work-life balance by providing separate spaces for working, eating and resting throughout the day.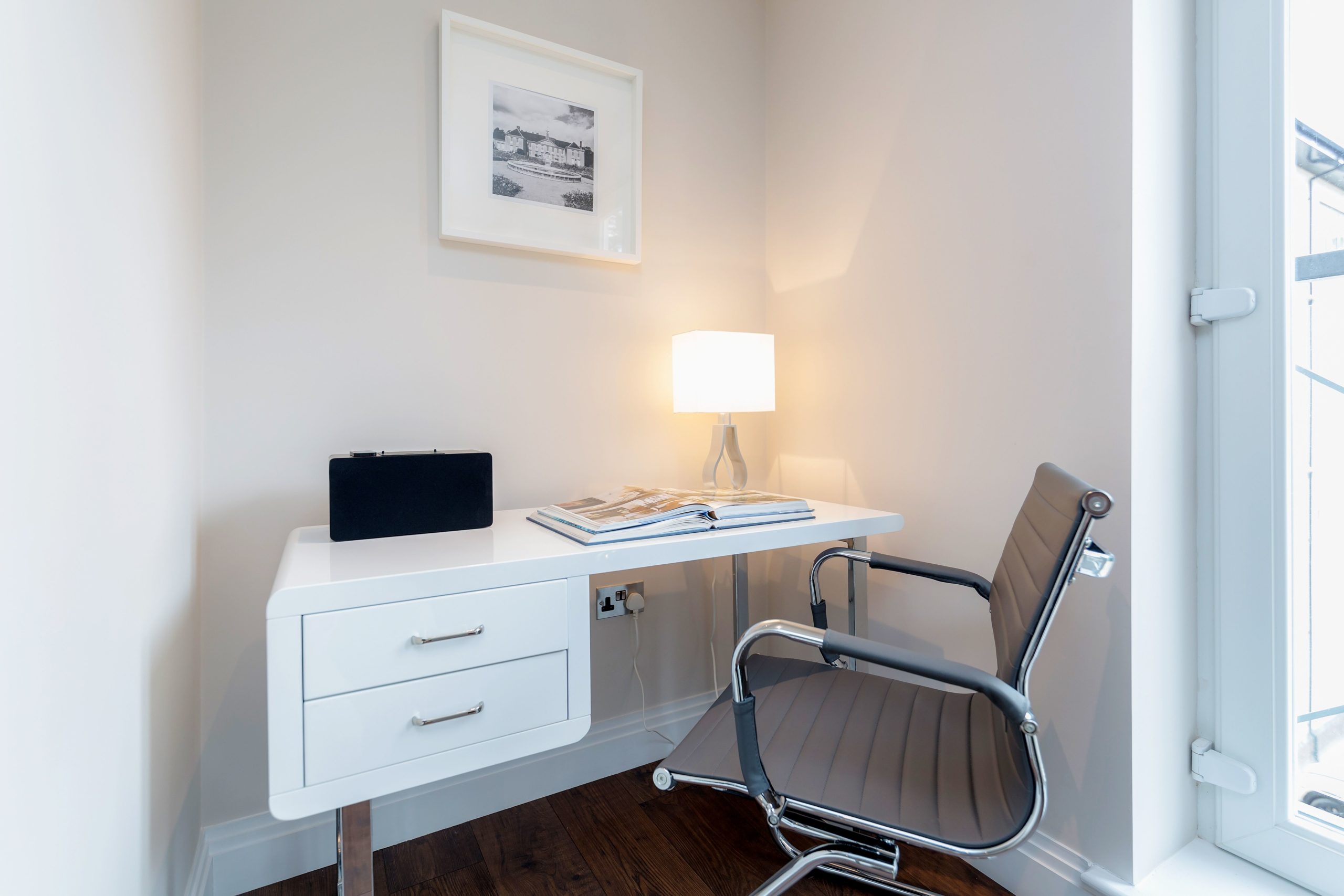 The technology is also particularly impressive inside serviced apartments. Most apartments feature high-speed Wi-Fi so you can stay connected throughout the day, and a smart TV that can be used as a meeting screen for video calls. The quality of technology a serviced apartment provides means that you no longer need to be in the office during meetings, which can enhance the time- and cost-effectiveness of your everyday schedule.
Serviced apartments are also great for businesses, as they no longer need to book conference rooms on top of their employees' accommodation – the apartments are designed to be both living and working spaces, reducing the need for further office expenses.
Staying in a serviced apartment means that you can work remotely and still be able to "clock out" when you've finished work. Whilst you retain the benefit of working from your own private space, you can escape from your daily routine at home and still be close enough to get to work quickly if needed.
Commuting and Hybrid Working
Most serviced apartment providers offer properties in key sectors of the city or in locations with direct links to business districts. This means that even when you're travelling for work, the commuting time can be significantly reduced by staying at a serviced apartment. What's more, with short walking distances and frequent transport available, staying at a serviced apartment will help you avoid lateness and the stress of crowded or delayed transport.
Staying in a serviced apartment means that popular areas are often right on your doorstep, giving you the opportunity to meet with colleagues after work and catch up on social events that you may have missed due to remote working. Many apartments are in the heart of town, so you'll never miss any of the action.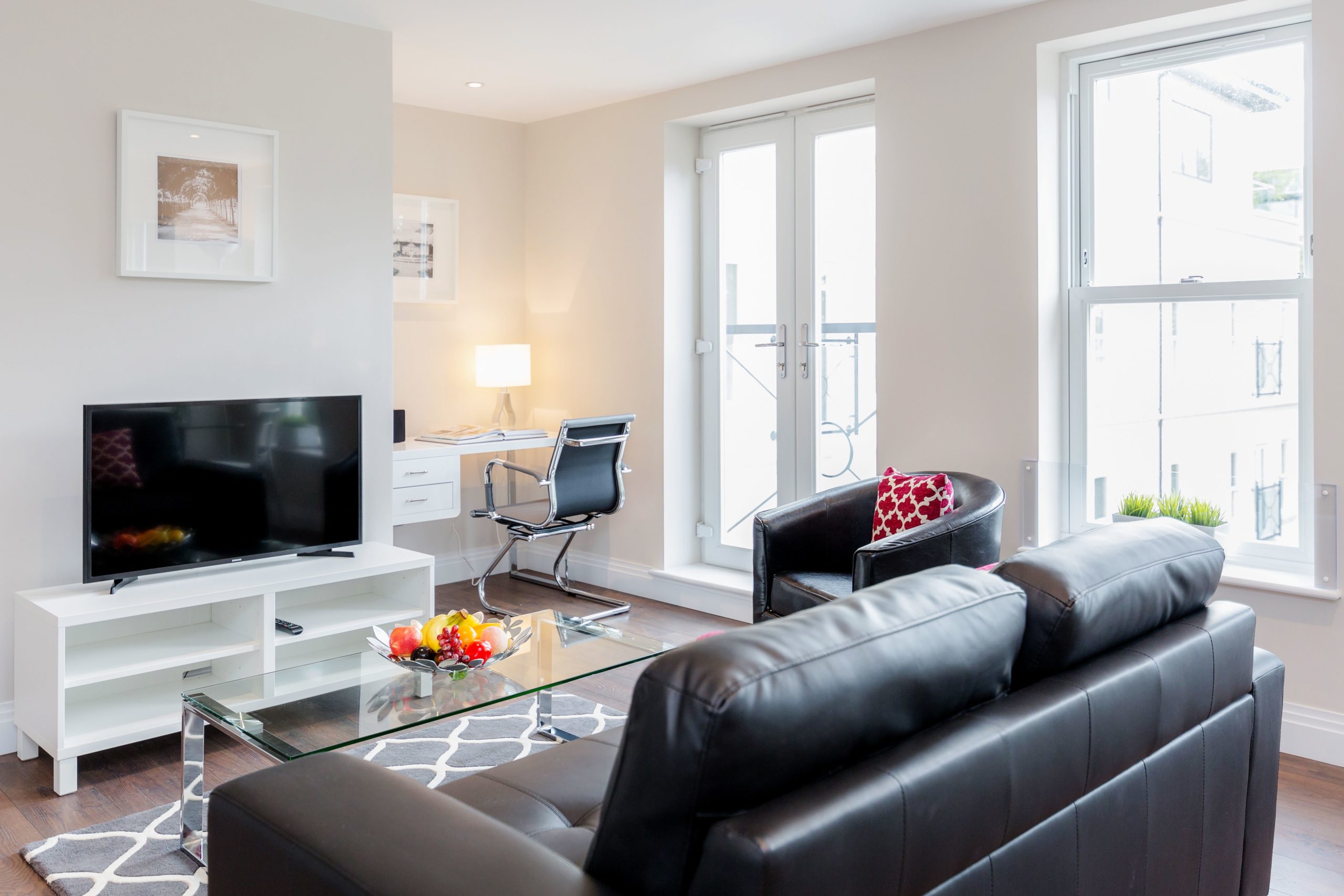 Serviced apartments allow you the flexibility of alternating between working from home and going to the office. By offering the space and privacy you'll need during the workday, serviced apartments are ideal for remote working, increasing your autonomy in the long run. Regardless of your working pattern, you're able to get work done in a space that suits your needs and preferences.
As a result, serviced apartments have become an increasingly popular solution to the unstable work environment caused by numerous lockdowns. It's easy for the lines between work and home to become blurred when you work remotely but having the flexibility to do hybrid work from a serviced apartment means that you can spend time with family and friends in a private space whilst enjoying the opportunity to meet colleagues and escape the distractions of home at any point in your stay.